Product Description
The wireless programmable 123\TUNE+4-R-V-P is designed for Porsche 912 / 914 / 356 and VW 1,2,3,4
Comes with appropriate spacer for a proper fit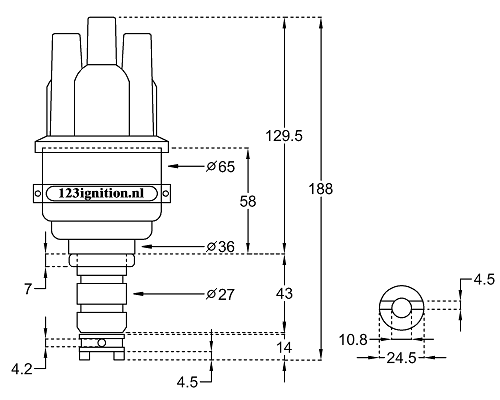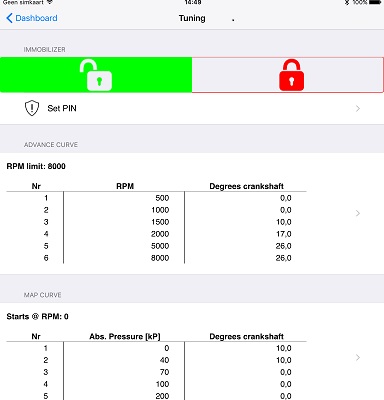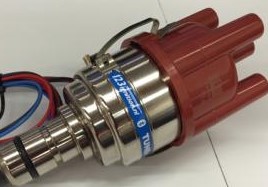 For Bosch D-Jetronic fuel Injection engines choose the non programmable: 123\PORSCHE-4-R-V-IE


123ignition is proud to announce the first fully programmable wireless Bluetooth 4.0 ignition! Control your 123\TUNE+ with your iOS/Android smartphone or tablet. The App makes it possible to adjust the ignition curve and shows an electronic dashboard.

Main features: REV-counter, Antitheft system by a PIN code, Bluetooth 4.0, Real time tuning, Vacuum advance, Boost retard, Soft REV-limiter, etc.
SPECIFICATIONS
cylinders:
4
direction:
CW/CCW
voltage:
4,0-15,0 Volts
range:
500 - 8000 rpm
temperature:
-30 to 100 Celsius
coil:
stock or High Energy coil, primary coil NOT below 1,0 ohm
dwell:
constant current, fully autom.
time-out:
after 1 second current is switched off
spark-bal.:
better than 0,5 degr. crankshaft
vacuum:
vacuum advance or boost retard, max. 20 degrees crankshaft
max.advance:
45 degr. crankshaft
curves:
one programmable advance curves
Programmable:
By iOS or Android app via Bluetooth 4.0
Rev limiter:
Programmable soft rev limiter ( max 7900 rpm ), 60% of the sparks will cut off
wiring:
red = +6V or +12V, black = '-' coil, blue = ground
App for IOS:
123\Tune version 1.5.2 (link to App Store opens in new window) requires iPhone/IPad/iPod 4+ and upp
App for Android:
123\Tune+ version 1.5.0 (link to Google Play Store opens in new window) requires Android 4.4 and up and a device with bluetooth 4
Custom Field
Product Reviews
Best overall performer

So far everything has exceeded expectations. I've yet to use the vacuum port but plan to do so once the supercharger arrives for my type 1 1600 Beetle. Also Ed was very prompt and professional when answering a few initial questions.

Porsche 914 Tune Plus distributor.

Haven't been able to install and run this distributor yet. However the Quality of the product appears to be top notch. Ed at 123 was awesome and the product shipped very quickly and was well packaged. Thanks Ed.

Improved an inconsistent idle problem I've had on a 356. Also, engine feels more smooth and snappy. Still adjusting curves a small amount at a time. Not a night and day difference from my old cast iron distributor, but an overall improvement.

Supplied curves not very good. MAP curve confusing Hi Chris The supplied curve is only meant to give you something to manipulate. It is the same in all Bluetooth programmable distributors and is not intended for anything in particular. You should change it close to the specs in your motor manual or ask a mechanic that knows what your motor needs. Thank for the order. Ed

Best product with all the bells and whistles. My customer plagued with problems from an old rebuilt vaccuum advance. 123 fixed it after years with his struggles

BT Tune for 914 with Carbs

best upgrade I have ever done to my 914 - Easier starts - Smoother idle - lower CHT readings - much improved Torque through rev range and so such smoother than the old .009 I pulled out.

Install and startup flawless ...

We installed the TUNE+ into a '74 Porsche 914 1.8 (carbureted) without any problems. The unit was easy to work with and the app simple/ straightforward. The car starts and idles better than ever. Disclaimer: I have not had time to drive the car. This rating is for everything up to this point. I expect it will continue to turn out really well based on experience so far.

I like this product very much so far. Lots of ways to adjust the advance. So far so good.

I finally broke down and bought this distributor for my 912, tipped by the new offering of bluetooth. It replaced a rebuilt correct distributor and Pertronix electronics. The first thing I was a bit surprised about is that the written instructions on the actual installation are lacking. Fortunately, there are a number of YouTube videos showing the installation but you have to find them yourself. No mention of them is made in the enclosed literature, but I had prepared for this day and had found several. Opening the package, there is a space ring, but again with no explanation. The quality of the unit is unmatched. It is an absolute jewel and there were no issues installing. Timing it by simply installing at TDC is something this old, analog guy had a momentary struggle with. I own multiple timing lights, and they are now all redundant! The app was easily installed and set up. I set the curve based off info on the 912bbs.org, and for the moment it works fine. The first thing I noticed on start up was my idle was better than it had ever been. Response is linear, and a test drive made it seem like the engine is running smoother than ever. I still have some fooling around to do with the curve to try and sort a better return to idle, but that's no fault of the unit. Next up is a purchase for a DJet 914, especially if they add bluetooth to that unit. I'm happy with my result and it all seems like good value. Thanks Rob - Also note the Bluetooth is now available with D-Jet Support

PORSCHE VW 4 CYL ENGINE DISTRIBUTOR BLUETOOTH PROGRAMMABLE NATURALLY ASPIRATED W/SPACER

It's a little too soon to review, but it looks like a solid distributor. As soon as I install it, I will review it again.

Best product ever to date

Best product ever . Easy to tune . Would like to see product set a tdc on #1 cylinder and at zero. If possible to make it tunable without moving distributor staticly .No sure why the program is not made this way zero it out and tune timing grid with no need to ever move distributor. JD: The distributor is intended to be set at TDC on the #1 cyl during the static time setup. It is at this point when synchronizing the 123 with the timing that you will need to rotate the 123 to correct any timing issues during setup. Hope this helps Ed