Product Description
This 3.0 will work without the Hkz 3pin or with the Hkz 3 pin. It has the 3.0 L/H pitch Gear. For those that want to use the 3.0 with the Hkz 6 pin there is a 6 pin specific model. Drive Gears on the 3.0 are different than the 2.2,2.4,2.7 Porsche 911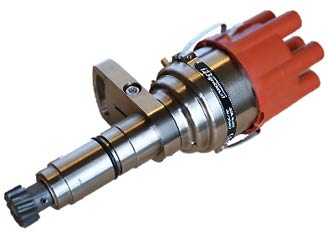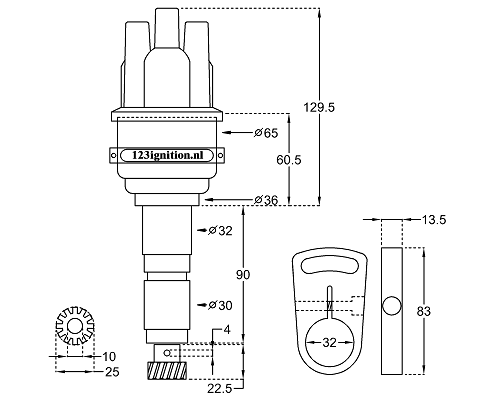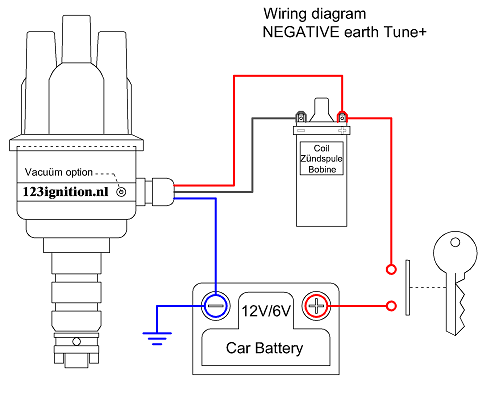 How to wire the 3pin HKZ and 123ignition
Red from 123 to 12v Terminal "B"
Black from 123 to Terminal "C" and Black/Violet Tachometer wire
Blue from 123 to ground
Terminal "A" from HKZ to +ve side of coil
Neg -ve side of coil to ground
The wireless programmable 123\TUNE+-6-R-V-POR911-BIG is designed for 1972 and up Porsche 911 3.0L 6 cylinder engines.

Suitable for engines without HKZ (CDI) unit or first generation HKZ unit ( 3 wires ).

Warning: Don't use the original HKZ (CDI) coil direct on the 123ignition.
123ignition is proud to announce the first fully programmable wireless Bluetooth 4.0 ignition! Control your 123\TUNE+ with your iOS/Android smartphone or tablet. The App makes it possible to adjust the ignition curve and shows an electronic dashboard.

Main features: REV-counter, Antitheft system by a PIN code, Bluetooth 4.0, Real time tuning, Vacuum advance, Boost retard, Soft REV-limiter, etc.
SPECIFICATIONS
cylinders:
6
direction:
CW/CCW
voltage:
4,0-15,0 Volts
range:
500 - 8000 rpm
temperature:
-30 to 100 Celsius
coil:
stock or High Energy coil, primary coil NOT below 1,0 ohm
dwell:
constant current, fully autom.
time-out:
after 1 second current is switched off
spark-bal.:
better than 0,5 degr. crankshaft
vacuum:
vacuum advance or boost retard, max. 20 degrees crankshaft
max.advance:
45 degr. crankshaft
curves:
one programmable advance curves
Programmable:
By iOS or Android app via Bluetooth 4.0
Rev limiter:
Programmable soft rev limiter ( max 7900 rpm ), 60% of the sparks will cut off
wiring:
red = +6V or +12V, black = '-' coil, blue = ground
App for IOS:

123\Tune

version 1.5.2 (link to App Store opens in new window) requires iPhone/IPad/iPod 4+ and up
App for Android:

123\Tune+

version 1.5.0 (link to Google Play Store opens in new window) requires Android 4.4 and up and a device with bluetooth 4
Product Videos
Custom Field
Product Reviews